Your weekly crème de la crème of the Internet is here!
31.08.2021 (read in browser)
---
---
On last days of summer ¶
Back then I used to get very sad in late August.
This sadness was akin to the sadness one experiences on Sunday afternoon, when the leisure time is coming to its end.
I still get the latter occasionally, but don't really care about the seasons anymore, partly because I don't have to deal with below zero temperatures anymore, partly because summer can last forever if you want to spend money on it.
Apparently I prefer spending money on something else, but otherwise I'd move to some cheap island nearby the equator a long time ago.
That being said, warm weather calls for traveling longer distances to find food.
One of the week's highlights was another tasting menu from the folks behind Amalfi Coast, Shanghai, and Circus.
This time they cooked all things British cuising, so the menu was dubbed "Chippy".
One of my favourites was this snack, essentially just some sourdough bread and shellfish butter, served with a filo cannelloni that was filled with taramasalata and garnished with lemon gel and keta caviar.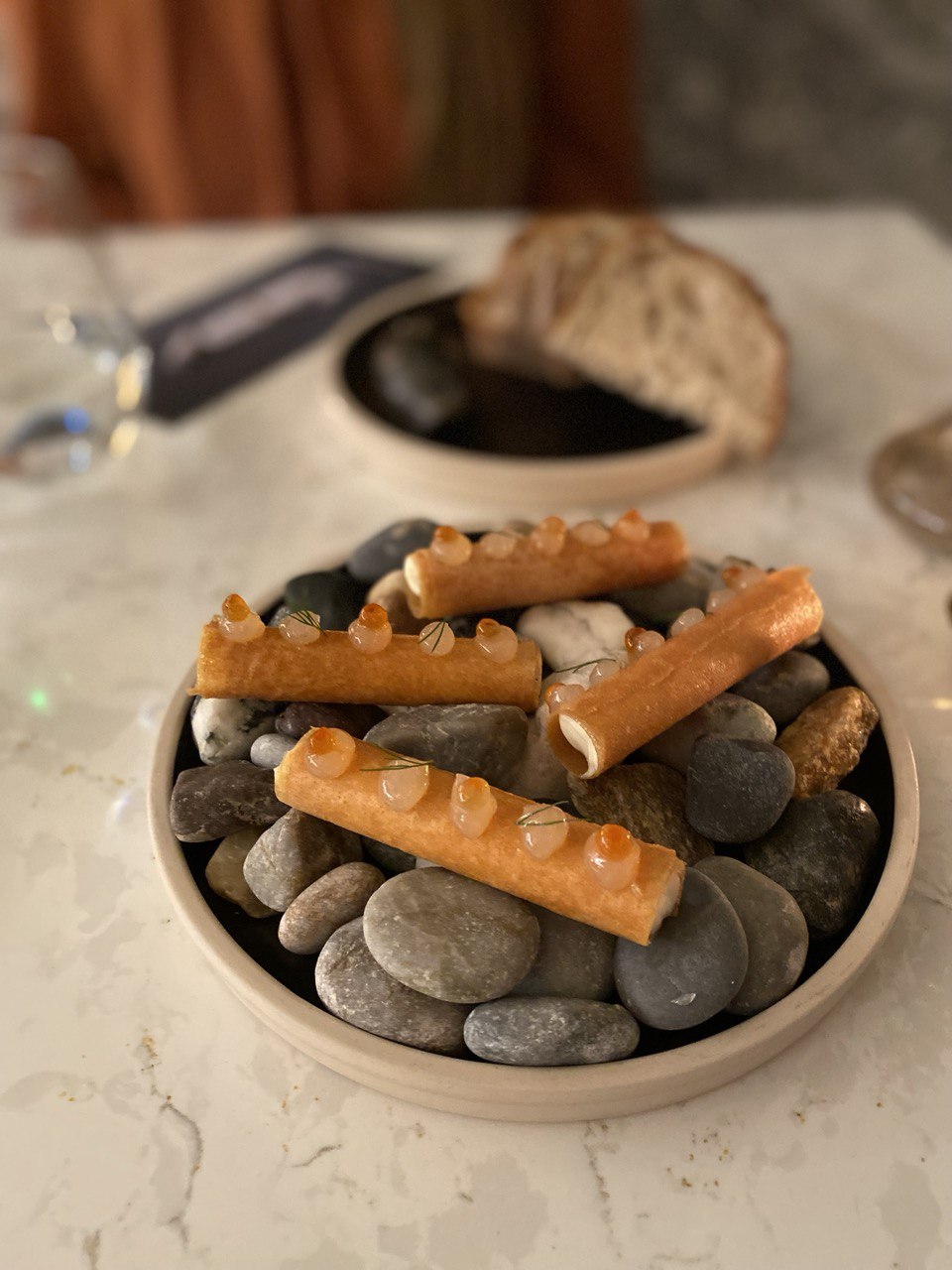 Another one was a Scampi out of a monkfish cheek, served with a very brightly flavoured dill emulsion, gribiche, peas and beurre blanc.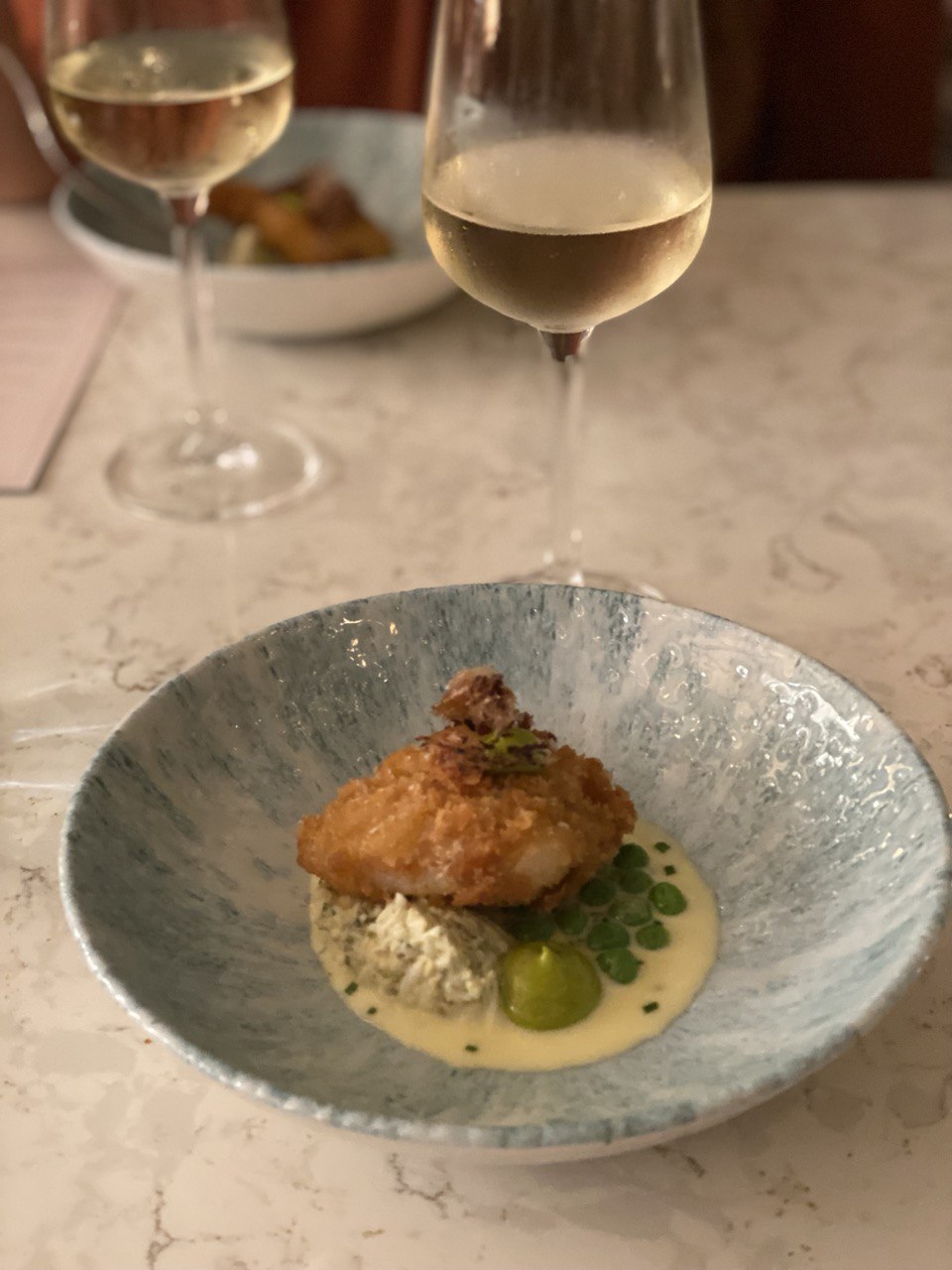 And probably the most exciting was the dessert: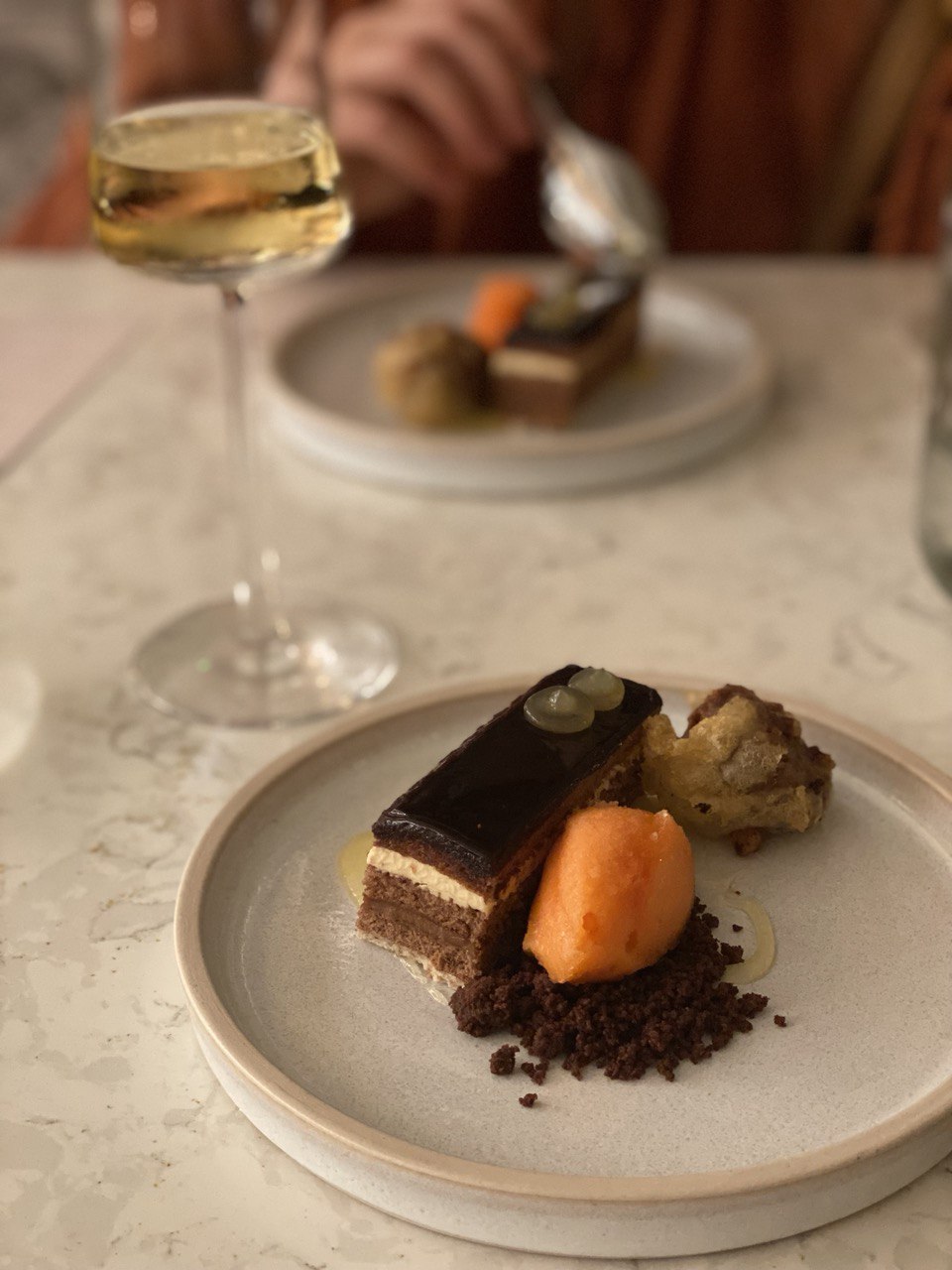 It's a deep fried Mars bar, with chocolate Opera, chocolate soil, and - wait for it - Irn Bru Sorbet!
Bao House ¶
Also we've accidentally visited a Korean-European fusion pop-up. Literally accidentally, as they don't have walk-ins usually and we've just happened to pass by at the right time.
The chef studied in Europe and decided to mix the techniques with recipes of his ancestors, and as a result came up with a very refreshing selection of dishes.
This kimchi risotto was great, as well as the fried chicken thigh, sweet chilli sauce, cashew nut, and coriander.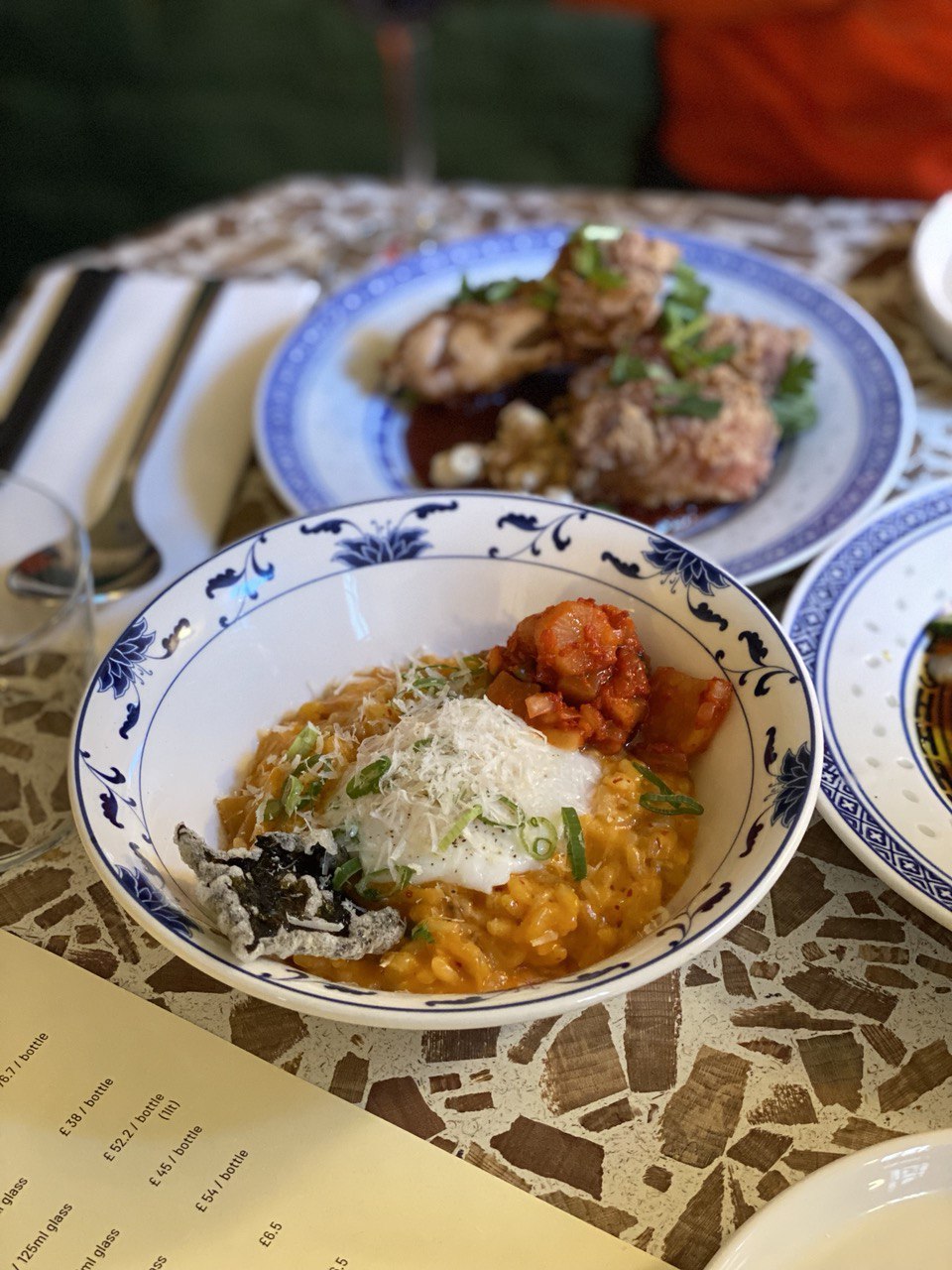 Desserts were superb too, this one was my favourite. Summer berries, meringue, vanilla mascarpone cream, sable: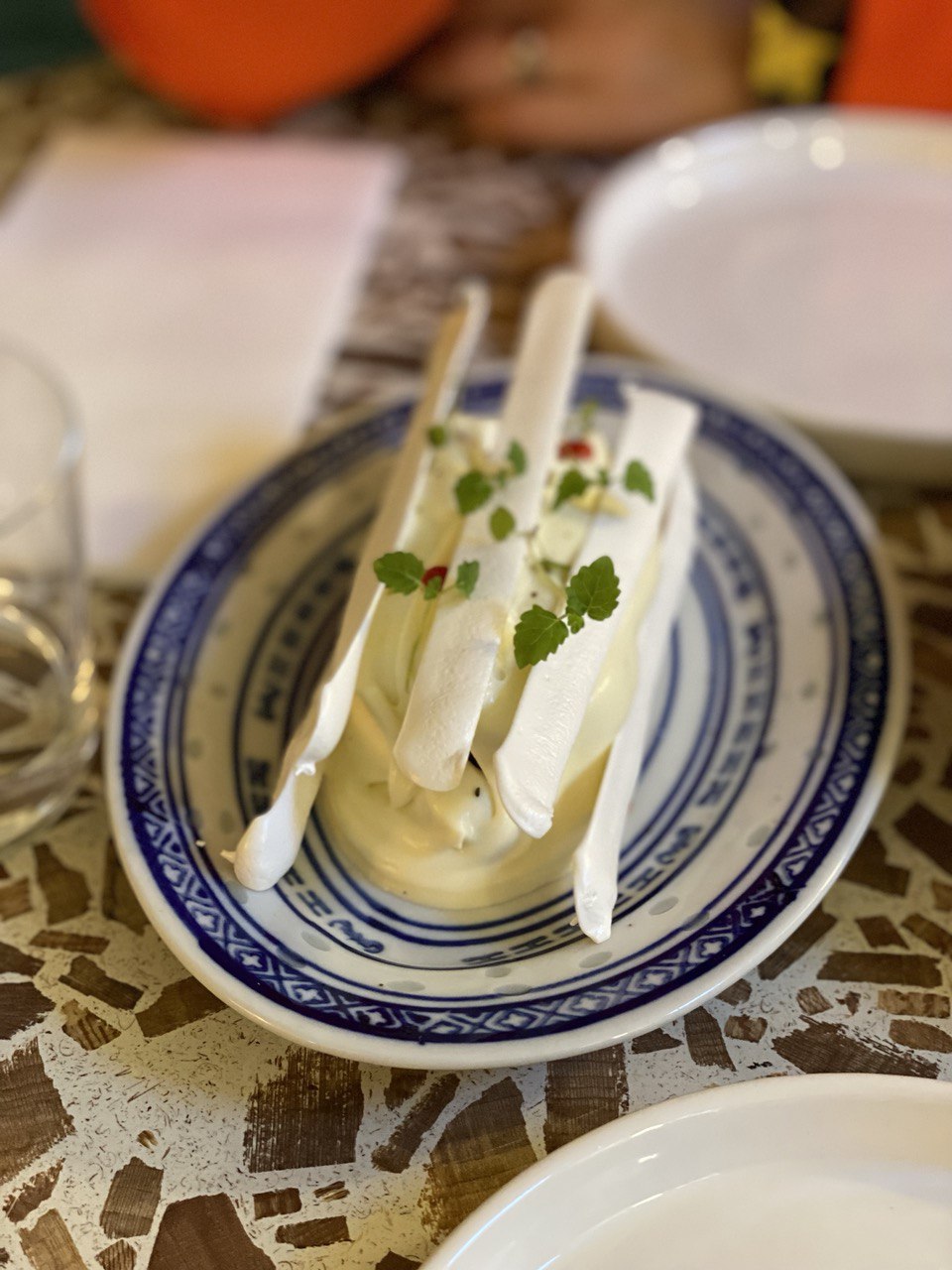 Very simple, and yet all flavours are shining through. Well done.
Breakfast Bao ¶
Another pop-up we've visited, this time planned, was a riff off a very popular local chain, that takes bao buns and turns them into everything else, from loafs to sandwiches.
They had a wacky selection of breakfast dishes, mostly inspired by Taiwan, but this one was the most mindblowing: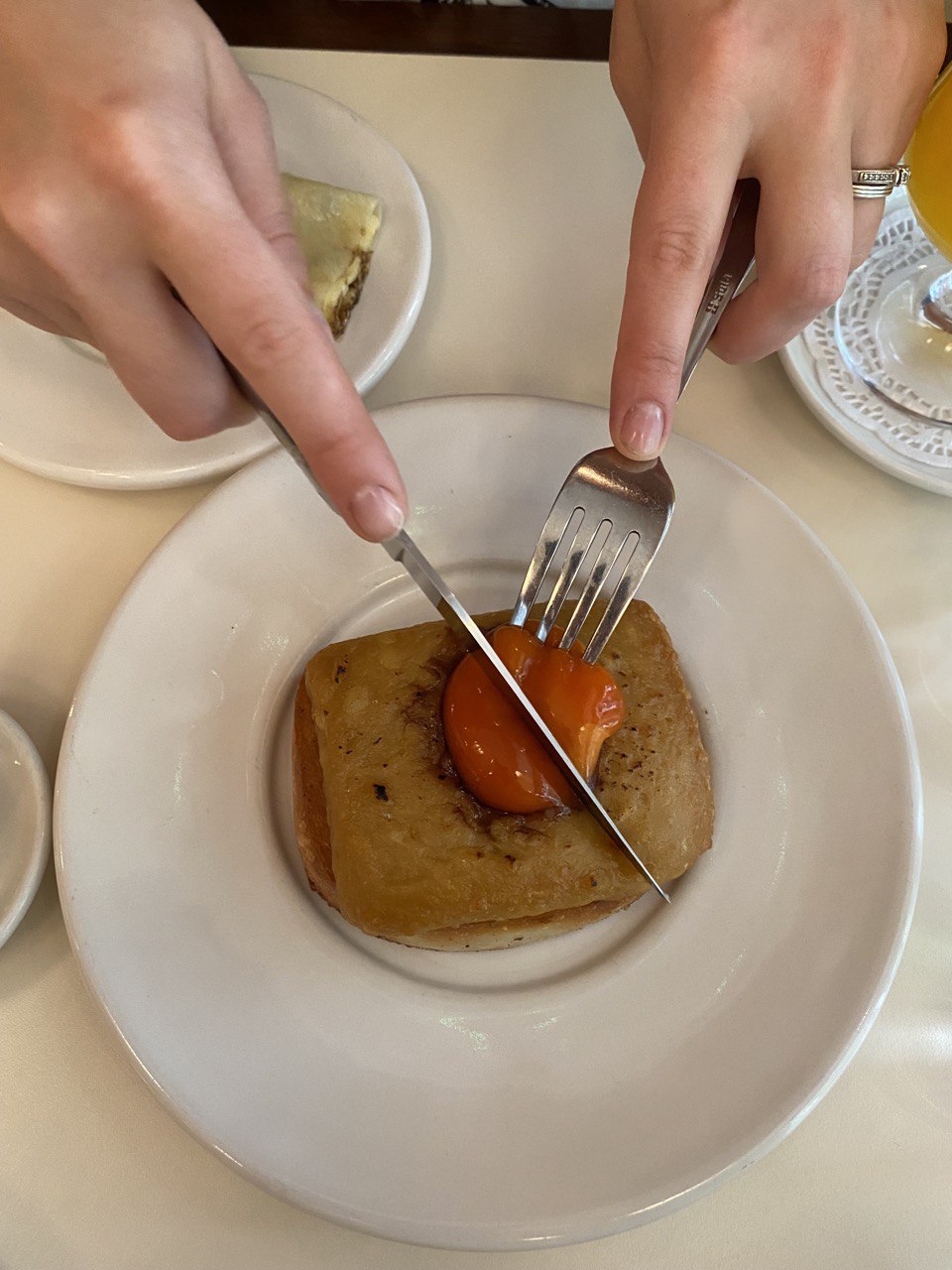 Think Welsh Rarebit, but using bao dough and their own stout-like beer.
Cappelletti and ravioli ¶
And last but not least, a completely new technique for us with Sasha: multi-coloured dough. Lots of fun went into making a bunch of cappelletti, ravioli, and tagliatelle. Definitely worth the efforts though.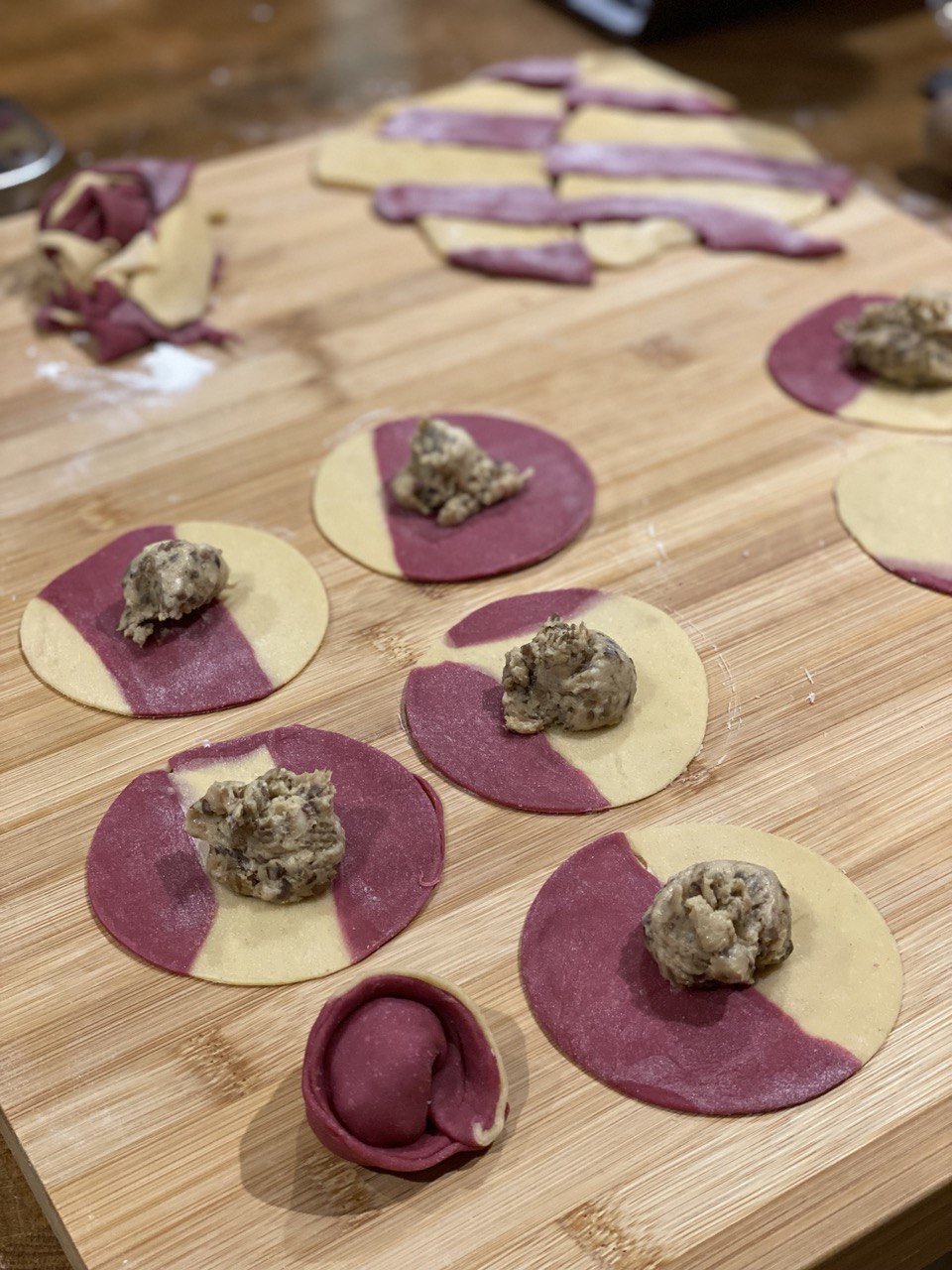 Serving them in broth actually makes the dish even better.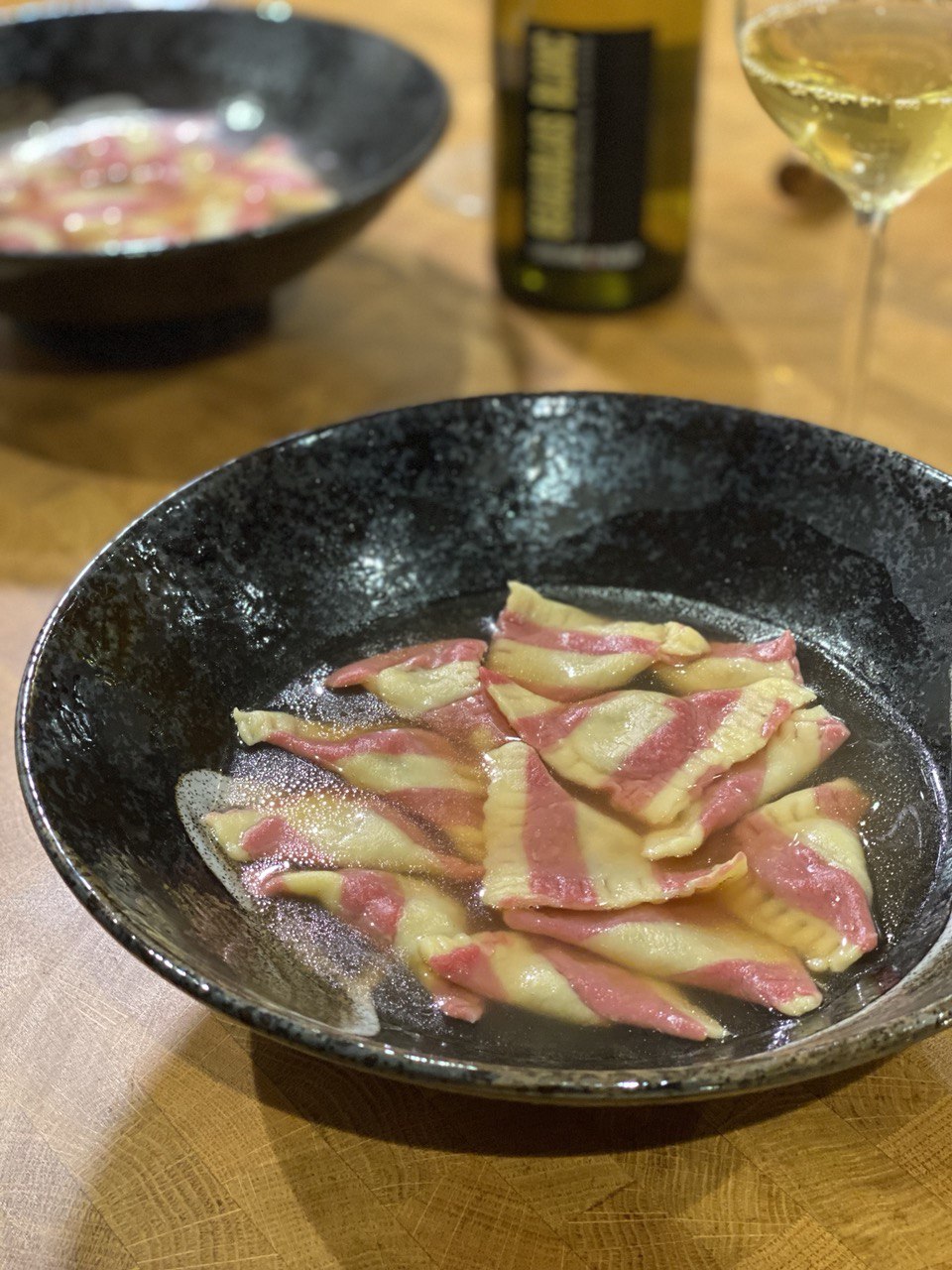 ---
Things I enjoyed reading ¶
Being a fan of pizza I am, it was hard to scroll past a very clickbaity title.
And yeah, I didn't really know about most of the pizzas mentioned.
I tried one though, and now after so many years I know that its correct name is "Pasta da forno":
Forget the "pasta" name; this is a pizza, and it's popular for breakfast. There's no tomato sauce atop the dough, no mozzarella, no onion. It's just crushed tomato with salt, oregano, and olive oil. This one is served to us at the smart Panificio Mauro, also in Cerchiara di Calabria. (In Italian, panificio means bakery.) Traditionally, pasta da forno comes in a round, black tray and is served cold. The absence of sauce helps keep the base crispy, making this a perfect snack to carry to school or to work.
Also lots of really inspiring ideas on what you can do with a piece of dough and some fillings. Can't wait for something similar about pastas.
Well-written security reports are rare, and interesting to read disclosures are even harder to find. If you happen to come across one, that reads as a decent detective novel, you either have very low standards, or found a proper gem. I hope this is the latter and I actually enjoyed reading it:
You don't want to compromise your privacy by submitting real photos of yourself, so you take a profile picture of Jenna the intern and then another picture of her with her right hand on her head. She is confused but she knows who pays her salary, or at least who might one day pay her salary if the next six months go well and a suitable full-time position is available. You take the same set of photos of Wilson in…marketing? Finance? Who cares. You successfully create two accounts, and now you're ready to start swiping.
On that note, kudos to Bumble for making sign up so complicated. Surely it dropped some of their metrics a lot.
Might sounds too harsh but I believe it as well might be the case. There is not much point in profiting from sharing a financial advice if you can just stick to it and make even more profit.
However, a wage earner is pretty much screwed. Your options to reduce your taxes are pretty much limited to an employee-sponsored retirement plan and having children. Therefore, as an employee, you effectively pay more taxes.

It's not how much you make, but how much you keep.

An employee gets paid for the hours worked, so by its very nature your income is not scaleable and your wealth creation ability is limited.
I think the bit about "how much you keep" is the most important. Working on growing salary is good, but the opposite works as well – a lower salary with less taxes and yet more free time could do wonders.
And that free time could be reinvested into a business that doesn't have a linear correlation between time worked and money earned.
I can answer this one easily: it works pretty much the same as any other time-based one time password app out there.
But how do these apps work? Here is a good explanation.
We have to come up with an algorithm that will prove that the user has physical access to their smartphone running the app at the time of being authenticated. How can we do that?

The 1st thing that comes to mind is, let's embed a sort of secret – e.g. a password – in the app on the phone. Then, every time the user logs it, let's ask the user to open the app and type the password that the app is showing.
Note, that this is only the first part in series – I encourage you to check out the rest as well, this is a great write up, simple enough to quickly explain to less tech-savvy friends when they ask how does 2FA work.
An interesting idea, and one I didn't really consider below. The limitations of devices eventually paved the way for a very specific definition of "good photography".
As we learn in "Good Pictures," the posed portraits common to daguerreotypes and early collodion-process photographs were actually products of the primitive technology of those emerging photographic media. "Awkward poses and strained expressions betrayed the challenge of sitting still for several seconds, as was common through the 1860s," Beil writes. Indeed, so many photographers found it necessary to steady their subjects that it became common practice to provide the sitter with a small round table upon which to rest an elbow. In 1868, one enterprising photographer, a New Yorker named Napoleon Sarony, even filed a patent for a "photographic rest," which could be adjusted into a number of appealing poses.
Does it mean that the same limitation of kitchen appliances created the narrative of what we call "good food"? And in some other world we would be enjoying everything in dehydrated form? Or only as liquids? Or always medium-rare?
As someone who grew up in Russia and landed in London quite some time ago (albeit managed to steer away from anything FAANG), I really enjoyed reading about the author's experience. We talk a lot about ups, but quite rarely about downs, and here the latter takes most of the space, which makes the whole story stand out from the crowd of its doppelgangers.
It is a twisted story that proves tip #2. FAANG corporations do not function as a holistic unit with regard to hiring. You can be rejected in one region, but accepted in a different one! My first interview was with Amazon in Munich. They sent an online screening test with a couple of easy leetcode-like tasks. Shortly after, I was on a call with an engineer solving a medium leetcode challenge. It took about 30% of the interview, while the majority of the time went into the behavioral part of the interview. I thought I did well... and I was wrong. A few days later, I got a rejection letter.
On that note, if you happen to be on a look out for a new job, drop me a message – my team is hiring for backend and Android positions, and if you can keep up with my weekly newsletters, you might as well enjoy my daily standup rants. We have an office in London, but the team is remote-first.
I can't really sum up this one without shifting the author's focus one way or another. Is it about learning? Self-reflecting? Regretting? Most likely a bit of everything.
My dad was a wonderful father. He also suffered from the disease of addiction. I wasn't aware of this for most of my youth and if I'm being honest, I'll never quite square these two versions of him. It's like he had an alter ego that his old friends knew well but I only saw the aftereffects of: A divorce or a bankruptcy or a job that didn't work out. But later in his life, I became more familiar with that alterego.

So when my phone rang last August at 4 a.m., I knew what it was about. My dad was dead at the age of 54.
All-in-all, it is about reading a book a tad later than you'd like to, but hopefully still not too late.
During all my time in the industry I heard (and read) quite a few theories on the links' original colour. Thankfully, folks from Mozilla did a great job delving into the history of the Internet to find out what is really going on.
I often hear that blue was chosen as the hyperlink color for color contrast. Well, even though the W3C wasn't created until 1994, and so the standards for which we judge web accessibility weren't yet defined, if we look at the contrast between black as a text color, and blue as a link color, there is a contrast ratio of 2.3:1, which would not pass as enough color contrast between the blue hyperlink and the black text.
Frankly it's been a while since I've seen links in all their blue glory of Internet Explorer 6. I might even miss the Internet as it was back then a bit.
Recently I shared an article about folks who remove paintings from the ground, but here is the other side of the coin:
Each shift begins with an aspirational number of square feet to paint or repaint, said Sam Kischuk, 23, a line crew supervisor and painter.
For Kischuk, a combo arrow is a favorite. To create one she carefully places several stencils on the ground and then sprays over them.
"It's like a puzzle coming together," she said.
The post itself features an interactive set of great illustrations, but while usually I am up for any kinds of modern journalism, this specific example is just pure pain to read through.
In the history of Apple not all influentual designers were locked in a white room for ages. Some of them actually never made it to the company office, and yet might have affected the way the company evolved over years through their ideas, lectures, works, and so on.
This life starkly contrasts to how we saw Dieter Rams live in Rams. Dieter trims his bonsai and sits at a desk that has remained unchanged for decades. A designer like Rams stays at home, perfecting every aspect of their lifestyle and preaching their principles to the world. On the other hand, Richard travels around the world working on a wide variety of projects. All the while, he rarely speaks to the public about his work or his ideas.
That's also a great introduction into lives of designers that did great things (albeit unrelated to Apple), from espresso machines to cars, which was really insightful.
---
Things I didn't know last Tuesday ¶
Yes, I might be quite ignorant and probably slept through my geography lessons, but Brussels is built on a river, which is hidden behind concrete for more than a century. Now they consider bringing it back.
As a constant flood risk and source of cholera, it was vaulted in, built over and hidden from sight. Now, however, Belgium's capital is preparing to stage an inauguration ceremony that officials hope will help force a rethink among Bruxellois about their centuries-held prejudices against the waterway.
Apparently citizens are mostly against, as the history made them think it is dirty and dangerous.
Another great sport we could all help popularise.
Extreme ironing was invented by Tony Hiam in 1980, near Settle in the Yorkshire Dales National Park in England. Inspired by his eccentric brother-in-law, John Slater, who ironed his clothes even when camping in a tent, Tony illustrated the futility of unnecessary ironing by doing it in bizarre situations such as mountain-lookouts, crowded airport departure lounges, on top of telephone kiosks and charity clothing bins.
Last time I've ironed something was in a different life, probably half a decade ago. Does it consier extreme too?
There is an idea that we think of the world as a dangerous place only because mass media promote articles about violence.
Mean world syndrome is a hypothesized cognitive bias wherein people may perceive the world to be more dangerous than it actually is, due to long-term moderate to heavy exposure to violence-related content on mass media.
Can't really argue with that. Would people reading only good news stay less mean? Probably. Would their average life expectancy be as long? Probably not.
These things don't look soft, and I would think they were used as nice decorations:
But apparently they were actually used for sleeping:
Pre-modern Chinese pillows tended to be made of hard materials like stone, ceramics or wood, which were sometimes topped with silken padding for softness. The ceramic ones––like that described in the story––were highly prized on account of their ability to stay comfortably cool on hot summer nights.
What are the chances of breaking one with your head while sleeping? At least it won't be hot.
I was looking up alternative ways of increasing ice cream's melting time, and came across this ingredient wildly used in Turkey to make their signature ice cream.
Salep [...] is a flour made from the tubers of the orchid genus Orchis (including species Orchis mascula and Orchis militaris). These tubers contain a nutritious, starchy polysaccharide called glucomannan. Salep flour is consumed in beverages and desserts, especially in the cuisines of the former Ottoman Empire, notably in the Levant where it is a traditional winter beverage.
The caveat is, due to its popularity in certain regions, orchids used for its production are endangered.
A beautiful substance that changes water colours when coming into a contact with it.
The wood is capable of turning the color of water it comes in contact with into beautiful opalescent hues that change depending on light and angle, the earliest known record of the phenomenon of fluorescence.
Used to be a gift for kings, which totally makes sense. Couldn't find even a single piece on Ebay, probably should check the British museum instead.
And on the note of colours, some of them are wanishing and call for preservation.
The most unusual of them all is a shimmering silver bead-like insect called cochineal that will spend its next life as a luxurious red dye. These bugs are cultivated year after year in the same way that seeds are saved by farmers, passing environmental wisdom from generation to generation.
I am less surprised by the fact that it gets passed through generations, but the fact they keep working with them instead of commerical dyes is really cool.
Something of no practical value to me, but a really funny paradox and its explanation is exceptionally well-illustrated.
Banach and Tarski realized you can turn one sphere into two by partitioning the uncountably infinite set of points it contains into — get ready for it — an uncountably infinite number of countably infinite sets. The separation occurs through a very specific dissection procedure.
The procedure is oddly specific, I'd say – no idea how they could randomly come across that.
A beautiful piece of architecture:
The shrine features a 13.5 m (44 ft) tall statue of the Buddha encircled by an artificial hill rotunda planted with 150,000 lavender plants.
It was also built around an older Buddha statue which is very... symbolic.
This is pronounced /ˈtʃʌmli/ CHUM-lee and now you have to live with this knowledge too.
Cholmondeley is a civil parish in Cheshire, England, north east of Malpas and west of Nantwich.
Can't imagine what the locals go through whenever someone asks them to spell the name.
---
Book of the week ¶
It's easy to talk about seasonal ingredients and living off the trail if your restaurant is in Norway or Denmark.
It's way harder to do in Nashville.
And yet Sean Brock is doing great, and his book Heritage is an impeccable homage to Southern ingredients and down-to-earth dishes with enough posh fleur to serve them in best restaurants.
Now, if you've never been in a kitchen when an ingredient changes the game, then let me tell you, it's something to behold. I love it when I gather the kitchen team around to dive into something new and the whole room goes silent. There's just an edge to it, a feeling that now so many things will have to be reconsidered and so many possibilities exist. It's simply incredible to watch people taste real food for the first time, when their eyes widen and the light turns on. It's even more incredible to see the same expression cross the faces of experienced chefs.

That's the story of Craig's lamb. It changed my kitchen, and we haven't used lamb from any other farm since. In fact, I'd never dream of it. The reason is simple: Craig Rogers produces the best lamb in America.
Comparing to some of the cooking books I've mentioned before, this one might feel a bit simple, as it rarely (if ever) calls for some unusual ingredients or hard to find appliances.
This is actually misleading.
Lots of modern ingredients are here to speed up something, or make it less confusing, or more predictable. Chefs can't afford ruining every third plate, because a certain tomato has too much water to it.
Even then, there is a certain beauty to making things the way they were produce by the nature, and probably this is the whole point of this book.
Highlighting natural flavours is always beneficial to creating something just for the sake of creating.
---
Thank you and see you in a week! ¶
If you have any questions, or want to suggest a link for the next newsletter, please drop me a message on Twitter or reply to this email.
Cheers! 🍸